Introducing AverLAB
AverLAB, the most affordable and convenient full-featured high-performance audio analyzer ever.
Analog performance to 88 kHz
Residual distortion typically better than -107dB
192K digital with AES, S/PDIF, TOSLINK and ADAT interfaces
Front panel controls for simplified operation
Mac and PC software, Ethernet connectivity
Quiet fan-less design
Expandable via AverLink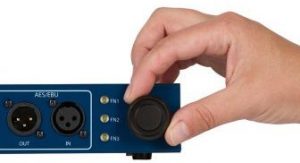 AverLAB is a bench-friendly analyzer. It operates silently without fans and it's roughly cigar-box size allows it to fit on even the most crowded benches. With front panel controls and Ethernet connection you can run tests and adjust parameters without having to clear precious space for a keyboard and mouse.
Unlike other portable analyzers, AverLAB is expandable, very expandable. The AverLink port lets you add over 100 AverLine rack test modules of analog, digital and general purpose I/O. The built-in I2S interface offer I2C and SPI control lines for debugging your digital audio circuits.
AverLAB works where you do. The under 6 pound unit fits neatly into most standard 15″ laptop bags. And, since there is no USB tether, you can move your laptop about the lab or, even bring it home and still be able to run your tests.
·       Front panel controls – work easier
·       PC and Mac compatible – your choice
·       Connection via Ethernet – work remotely
·       Under 6 pounds – cigar-box sized
·       Fan-less operation – work in peace
·       Hierarchical automation – simplified test editing
·       Balanced & unbalanced analog audio
·       AES, S/PDIF, TOSLINK and ADAT
·       8 lines of general purpose IO
·       Word clock in/out (free update)
·       I2S, SPI and I2C interfaces (free update)
·       Wired for future updates
·       Analog audio to 88 kHz
·       Residual THD+N better than -107 dB (typical)
·       26 dBu maximum output
·       33 dBu maximum input
·       Digital audio to 192 kS/s
·       Jitter <20 ps rms