Highly scalable solutions for audio and electronic test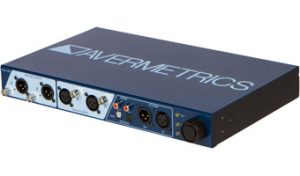 AverLAB
The bench-friendly audio analyzer built for everyone. AverLAB combines high-performance with affordability, expandability and portability.

AverLine
A highly flexible production test platform that can reduce test times by up to 80%. Modular design is scalable to hundreds of channels.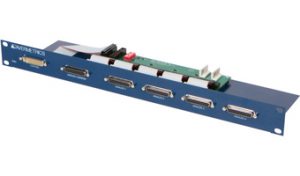 Accessories
Solutions to maximize the productivity and flexibility of Avermetrics test solutions.
AverLAB Benchtop Audio Analyzer
AverLAB™ is a compact, low cost, feature rich audio analyzer intended for use on a desk, lab bench, or small production line. Small and light enough to fit into a standard 15 inch laptop bag, AverLAB is ideal to take on the road for in-field diagnostics and testing. Physical front panel controls provide direct control of the host software, eliminating the need to have a keyboard and mouse take up space on the bench in many cases.
And AverLAB provides the best value for your test equipment dollar, with features and performance equal to or better than analyzers costing three times as much.
AverLine Production Test System
AverLine™ is the production test big brother to AverLAB, and is purpose designed and built to handle the rigors of life on the factory floor. Providing only the features needed to support high-volume testing, these customized systems are individually configured to match your product's exact requirements. Operations, factory test personnel, and your bottom line will love how cost-effective these test systems are. AverLine, and the supplied AverLine software, omits the unneeded features and complex user interfaces seen on most R&D test equipment, and provides high uptime and easy adoption, with no software programming or scripting. And your investment is future-proofed: add more modules to existing systems to provide new functionality and support your latest products. Avermetrics is continuously adding new types of modules, expanding the possibilities of all existing and future AverLine systems.
Explore AverLine in more detail to see how it can fulfill all of your production test requirements.
Why AverLAB?
| Feature | Why this matters |
| --- | --- |
| High Performance | Develop products and test them to the highest possible standards. |
| Front Panel Controls | Assignable encoder and lighted buttons allow operation on a bench without the clutter of a keyboard and mouse. Make adjustments directly with physical controls and visual feedback. |
| Outstanding Value | Low cost ($3000 USD). Low cost of ownership–updates, including new features are always free. |
| Dual Domain | Test products with both digital and analog audio, such as DACs and ADCs. |
| Mac and PC Support | Use the operating system thats right for your needs. |
| Fanless Operation | Uses only 15W, requiring no fan. Eliminates any annoying noise that might disrupt critical listening tests. |
| Front Panel Signal LEDs | Signal status at a glance for all analog and digital inputs and outputs. |
| Portable | < 6 lbs, fits in a standard laptop bag. Take it with you, carry on an airplane, test where you need to test. |
| Ethernet Connected | High performance, easy connection, no drivers needed. Access AverLAB from your bench, desk, laptop, or from the other side of the building with ease. |
| Native ADAT Support | Directly test multichannel devices at all sample rates without any external format converters. |
| Expandable | Grows with your needs, never obsolete. Coming soon: connect multiple AverLABs and AverLine systems to test as many channels as you need. |
| External Control | The rear-panel GPIO (General Purpose I/O) connector provides parallel and serial control of the real world. |
| Rugged | Powder-coated metal case, high reliability relays with one billion cycle rated life provides long, reliable life on the road or on the benchtop. |
| We Know Testing | Our production test systems are used in high-volume testing of products you know and respect. AverLAB puts enhanced versions of this same technology on your bench at an amazing price. |
| Support | We're design engineers just like you, so we understand audio. Get direct support in our forums, by email, or by phone. |
Why AverLine?
| Feature | Why this matters |
| --- | --- |
| Designed for Production | This isn't overpriced, complicated lab equipment pressed into service in your factory. Rather, AverLine is purpose designed and built for use on a production line. Only the features you need for the task, without the added complexity and cost. |
| Simplified User Interface | Factory test environments are a challenge for high-performance electronics. The AverLine software provides only what production line personnel need to determine pass-fail. For diagnostics and setup, run the AverLAB software. It works with AverLine as well, providing immediate feedback on system performance and configuration. |
| Speed and Scale | AverLine is designed to run simultaneous tests across any number of channels. Tests are just as fast with 32 or 64 (or more) channels of analog and digital audio as they are for two channels. |
| Expandability | Each AverLine rack unit holds up to four separate modules. Configure test systems with exactly the right number of analog, digital, and control modules to get the job done. Every system is built to your needs with no wasted money spent on unnecessary features. |
| Future Proof | As production needs change, add modules or reconfigure AverLine to support all of the products that you make, both now and in the future. |
| Ethernet Connected | Wired Ethernet connections provide the most robust communication in factory environments. AverLine hardware and software support DHCP, Static IP, Auto IP, Multicast DNS, and other protocols to make configuration and provisioning a snap. |
| Rugged | Heavy-duty steel construction, quality components, and simple design means AverLine can run around the clock, day after day, with no downtime. |
| Mac and PC Support | Use the computer hardware and operating system that's best for your environment. AverLine is fully supported on both Mac and PC. |
| Easy to Configure | Define tests using simple XML commands using a standard text editor. Support for LUA scripting provides support for more sophisticated test control as well as customized data logging and database access. |
| Software Integration | Perhaps you've already spent time and money developing a robust software test system for your factory. Source code in C++ is available to easily integrate AverLine support into your existing test system. Or, use any programming language and operating system that supports Ethernet sockets to easily support AverLine. All commands and responses are in easy to use XML. |
Learn More
AverLAB
Learn more about AverLAB, including features, specifications, use cases, and pricing. AverLAB is currently available direct from Avermetrics and online from Amazon. Contact our sales department for more information.
AverLine
Learn more about AverLine, including available modules, features, specifications, and pricing. Since all AverLine systems are custom configured to your specifications, please contact our sales department to discuss how AverLine can solve your production test needs.